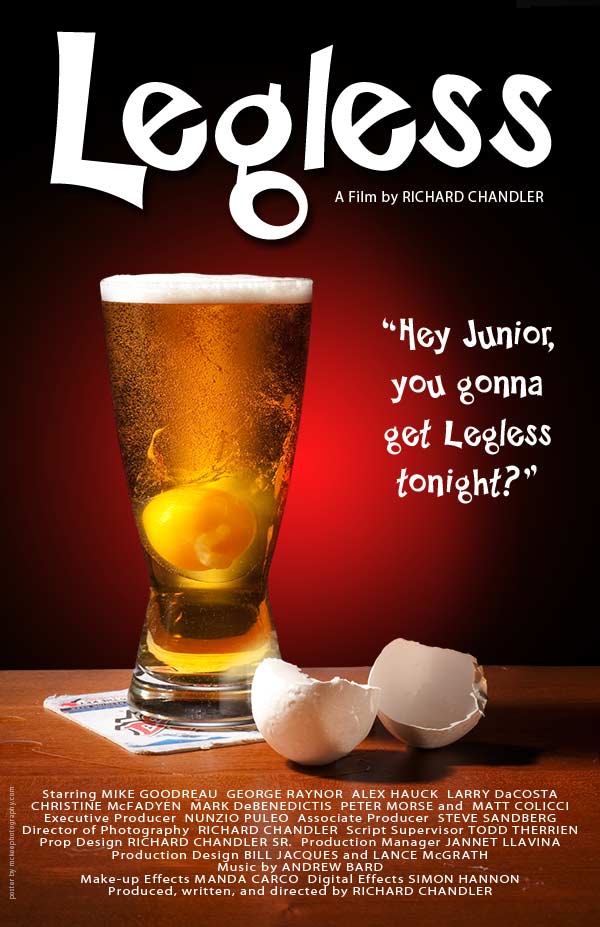 Some concepts for photographs are just plain simple. And, some take a long time to wind your way through, evolving the concept, refining it until it cuts through the visual static but looks nothing like the original brain storm. This poster layout is an example of the former.
Rick Chandler, an indy film producer, approached me about a poster and web image to promote his drinking comedy. I asked him what it was about. He said, "Well, it's a comedy… A drinking comedy… It opens with a guy drinking a beer with an egg in it and then dying. And, then it goes off from there."
So, when you refine that scene down to it's critical elements, you end up with a beer with an egg in it. Simple.
Of course, when you really start thinking about all the options:
Is a beer glass just a beer glass?
Does a different shaped glass imply a different type of drinker?
What does the coaster say about the story?
How about the background? What color/texture would advance the story?
How do we imply just enough info to allow the viewer to place themselves in front of that beer? Or remember the moment that they were confronted by that scene?
I seem to recall a morning after, when I was prodded into drinking one of these, with a tablespoon of hot sauce in it. Somehow, I don't recall much else about that event…