Creating Key Art for Dog Sees God, The Poster
Creating the key art for Dog Sees God, on set in the photo studio. How we create a conceptual poster.
The Boston Teen Acting Troupe, helmed by Jack Serio and Catherine Spino, is back in the studio for their fourth time, creating the Key Art for Dog Sees God.
Dog Sees God, an "unauthorized parody" by Bert V. Royal, is a dark comedy that answers the question: What ever happened to Charles Schultz's Peanuts characters, now that they have all gone on to high school?
Some call it a teen angsty play about adolescence, others see it as a remarkable look into the darker side of today's high school experience.
For me, after reading the script and watching this young troupe (most have just graduated from high school themselves)  in action during their production of God of Carnage, I am excited to see how they handle it.
As always, having a studio full of young adults on set brings a unique sense of energy to the set. These ladies and gentlemen were enthusiastic, collaborative and professional way beyond their years.
It is always a pleasure to work with talented people under those circumstances!
Work in progress: Key Art for Dog Sees God
We had already discussed the key art for Dog Sees God and the final layout had been sketched out.
During the shoot, we would do down-and-dirty silhouetting and drop potentials into the layout to check position, angle and lighting.
Post shoot, we tweaked the individual files further in Photoshop and then did nice, tight silhouettes.
The approval process was very simple, since we had a rough of the poster ready before the shoot was over.
The play opens August 10th at 8pm. It will be a great, if somewhat disturbing, show. 
Let me know what you think of the poster, especially once you see the show.
Related Stories from the Studio . . .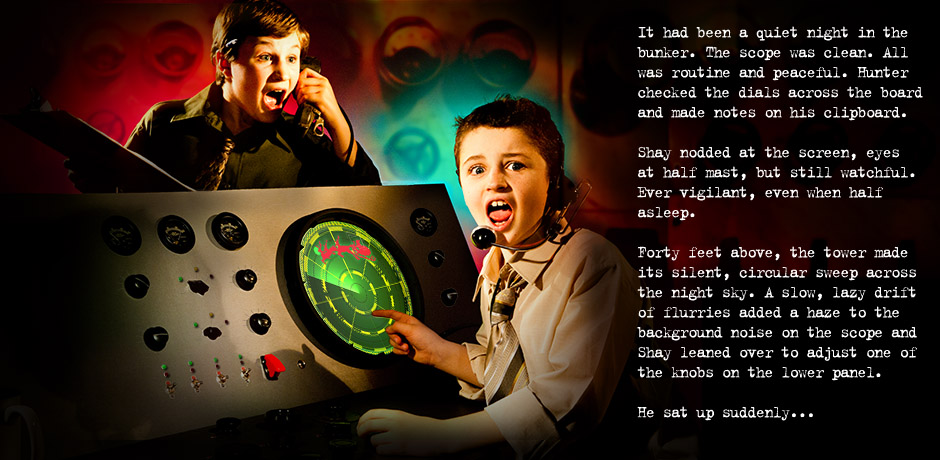 All was quiet on Christmas Eve as Gears looked over the scope. Suddenly, Rocketboy spots a blip coming out from the North Pole!