Rocketboy and Gears Christmas: Just Dropping In!
The Boys are back in our 18th McKee Photography Studio Christmas card! What kind of peril are they getting themselves into this year?
The Boys are back in our 18th McKee Photography Studio Christmas card! What kind of peril are they getting themselves into this year?
The McKee Photography Studio Christmas Card
The Boys are back in their 18th adventure, helping out the Man in Red on his deliveries.
Someone doesn't want the good little boys and girls to get their presents!
Join Rocketboy and Gears on their latest adventure in Just Dropping In!
Be sure to check out more behind the scenes and Christmas Cards from past adventures.
Book excerpt from inside of card:
"They're on us like tinsel on last year's Christmas tree," Rocketboy exclaimed. "So much for the friendly skies!"
"The chimney is just ahead. We're on target. Let's hope your throwing arm is up for the task," Gears hoped.
"When he said it was just a simple drop off, I didn't realized it was a vertical delivery!"
"You know he's a traditionalist."
"Since when did he start using biplanes?"
"Well, you remember when the reindeer started that dancing scene back in Chapter 7? Apparently, they all twisted ankles!"
"Oh, deer!"
Gears paused. "Rocketboy." He shook his head. Then, he said, "Okay, get ready!"
"Ah, well," Rocketboy smirked. "It beats doing homework!"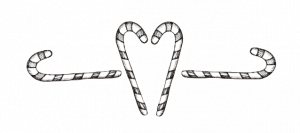 How We Make The Studio Holiday Cards
How do you make your sets?
Some years, we get more involved with practical props and sets.
But, this year, 80% of the artwork was generated digitally, using Blender.
We used the foam core pieces just as a reference point.
I still ended up cutting the boys out into two separate layers so that I could move them independently.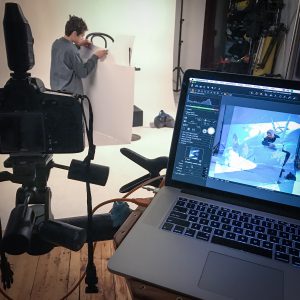 The joy of a digital set is that you get to put everything exactly where you want it.
The curse of a digital set is that everything, and I mean everything, is there because you put it there.
From the 3d models, which, in this case I sourced out and then modified, to the lighting, to the textures and graphics, all of it was painstakingly put together and weathered. This one was probably about 20 hours of work.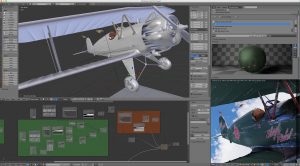 How did this get started?
When Gears, er… Hunter, was born, we wanted to create a traditional christmas card to send to family and friends.
But, I was not a fan, creatively speaking, of the standard generic family portrait.
So, my wife and I collaborated to create something a little more interesting. It kind of snowballed…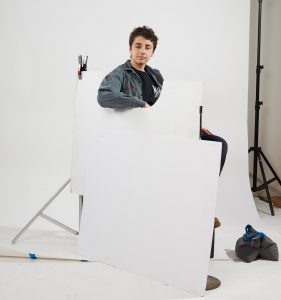 Snowballed? What do you mean?
As the boys got older, they started dreaming up crazy scenes and reading books that reminded me of the old Hardy Boys Mysteries series by Franklin W. Dixon. From there, it just took off!
And, no, we are not currently sponsored by Mountain Dew. But, we are open to a conversation!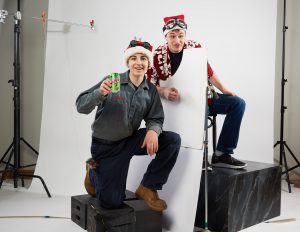 You have been doing this for 18 years. How long can you keep it up?
I will keep doing it as long as the boys are interested. It was definitely a challenge with Hunter away at college.
But, it was great to get them both back in the studio for the collaboration.
As long as we are all having fun, and people like the cards, we will keep on doing them!
Related Holiday Card Stories from the Studio . . .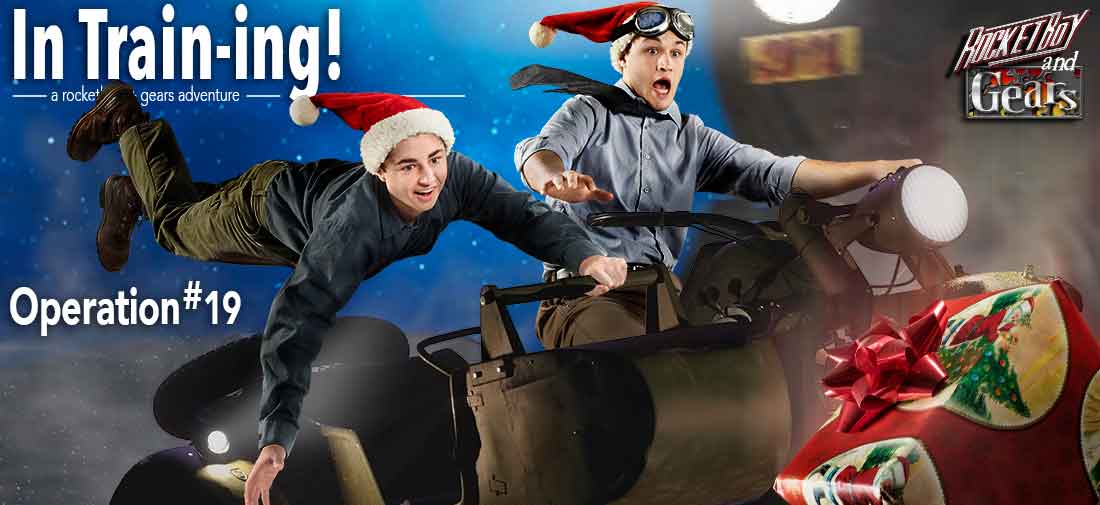 Can you believe its our 19th McKee Photo Studio Christmas card? See behind the scenes and how we put together these fun little photo composites.