Back to Live Theatre Photography with The Doll's House
Getting back to live theatre at the Footlight Club: Creating the key art for Katie Swimm's adaption of The Doll's House.
Getting back to live theatre at the Footlight Club: Creating the key art for Katie Swimm's adaption of The Doll's House.
We are slowly coming out of the pandemic and getting back to live theatre! And, I, for one, can hardly wait to see Katie Swimm's adaptation of The Doll's House, at The Footlight Club.
After a "slight" delay, as Omicron made it's presence known throughout the world, Katie and the creative team at the club reached out to me to schedule a poster and photo shoot for the key art. The images would market the first in person production at the club since February of 2020. (They had done several virtual productions, including 25 for 25,  Rope, Hedda Gabler and The Woman in White. But, virtual is not the same as LIVE!)
Poster Photography Preparation
As you can imagine, photo shoot prep and production has changed quite a bit due to Covid-19 (see our Covid Policies here). Everyone on set was presented with a health check before they came in. Two cast members actually had to be rescheduled due to positive tests and quarantining.
This did slow down parts of the key art production. But, as this is our reality, for now, we rolled with it. All of the concepting meetings were handled virtually.
On set, everyone, except the key person, was masked. And, cast members were staggered so that we could minimize the number of people in the studio. My space is large. But, everyone always wants to watch the monitors as we shoot!
Several years ago, one of the marketing directors started using Character Portraits as a way to introduce the cast to the public. He posts an interview with each actor, featuring them in character, on the Clubs' instagram and facebook pages.
We continued the tradition and had the opportunity to photograph each member of the cast in "action".
Huge thank you to Katie Swimm for directing, producers Kate Bischoff and  A.J. Lyman, and Kathleen Comber for their guiding hands during the shoot. And, to costumer Molly McGowan for her excellent work on set.
And, of course, to the amazing cast: Samantha Moon as Nora, Zach Best as Torvald, Kacie Kirkpatrick as Christina, Colin McIntire as Rank, Trevor St.Pierre as Krogstad and Jaryn Wilcox as Mary Ann. Understudies Stephanie Chambers and Nick Cipriano were also photographed.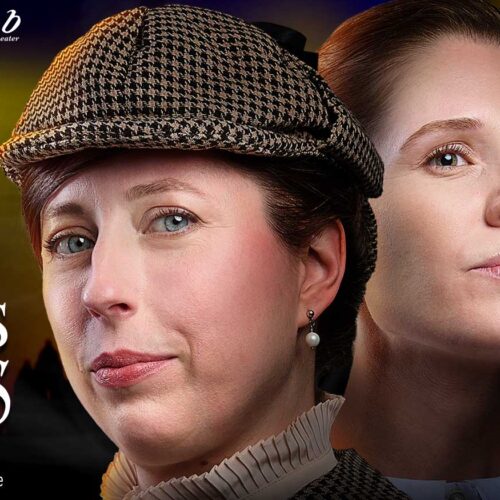 To paraphrase Elvis Costello, for this shoot, we are "shooting" the Detectives. Creating poster portraits of the greatest detective, Sherlock Holmes, in the production of Miss Holmes.