Rocketboy and Gears: A Tangled Tinsel Tale
The boys are back this holiday for another Tangled Tinsel Tale – our studio 16th annual holiday card photoshoot. Happy Holidays!
The boys are back this holiday for another Tangled Tinsel Tale – our studio 16th annual holiday card photoshoot. Happy Holidays!
Concepting The Tangled Tinsel Tale
The Tangled Tinsel Tale is our 16th annual holiday card. We started 16 years ago with the birth of our first son. We didn't really get the Rocketboy and Gears theme going until a few years after our second son was born and their personalities and interests began to manifest. Now, each photoshoot is a full on collaboration between the boys and myself, with the tie breakers going to my wife for final approvals.
In our 16th exciting adventure, Rocketboy and Gears find themselves in the dark tunnels deep under the Big Man's workshop.
Someone, or something, is sabotaging the heating system that keeps the elves from dripping icicles all over the gifts.
With the reindeer frozen in a block of ice, the sleigh in need of a reboot, and the clock counting down the last seconds, it will take all of the boys skills to fabricate a solution to…
The Tangled Tinsel Tale started, as they all do, in the sketchbook. A rough idea of showed off each boy's current interests. For Rocket Boy, Shay discovered a passion for welding this summer when he was interning at Stonybrook Fine Arts. We built a quick little MIG welder prop out of some pvc and light socket.
Hunter, or Gears as he is known in the series, has always been curious about wiring, connections and computers. It was a no brainer to dig into the cable drawer and pull out a medium sized rats' nest.
Our center piece was slower to develop. Why would Rocket Boy and Gears need these skills in a small space? They go together but not necessarily in a holiday way. How about a mechanical christmas tree mechanism that has the qualities of an old boiler and a sic-fi prop? Done!
It took about three days, over the course of two weeks, to build the Cone of Christmas out of plywood and cardboard. The rivets were actually googly eyes glued in place. The piping in the hatch was just $15 worth of PVC connectors and pipes, with a string of lights for effect. A coat of metallic spray paint and we are off to the studio!
As always, I need to thank my sons for their willing participation in this on going project. They not only show up but are active creative participants in the entire process. And, special thanks to my wife, who waits patiently for the creative dust to settle so that she can send out the cards every year.
Related Holiday Card Stories from the Studio . . .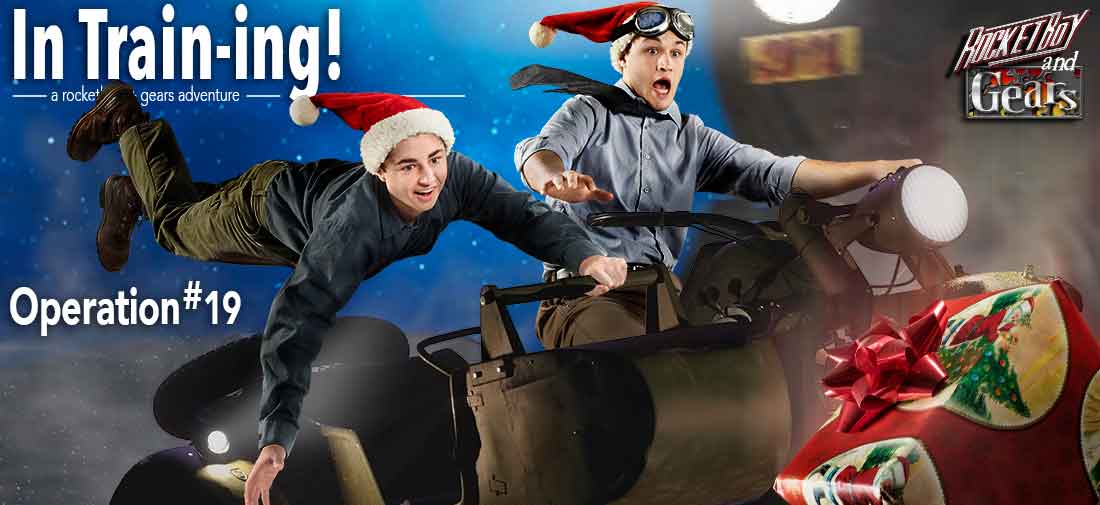 Can you believe its our 19th McKee Photo Studio Christmas card? See behind the scenes and how we put together these fun little photo composites.