The 39 Steps – A Black Box Theater Poster Photo Shoot
A Black Box Theater Poster photo shoot for Boston Teen Acting Troupe's inagural production of The 39 Steps. Minimalist in the photo studio.
Black Box Theater Poster Production
Black box theater is a great way to put together an inexpensive theatrical production. But, it does need marketing to be successful. A conceptual Black Box Theater Poster goes a long way to spread the word.
It's hard to believe that Jack was just 15 years old when he recruited me to create the black box theater poster art for his first production. His newly formed troupe, The Boston Teen Acting Troupe, co-founded by Catherine Spino, was about to put together the ambitious The 39 Steps, at The Switch, a Black Box Theatre and rental space, in Boston.
A black box theatre has no built sets, minimal props and some basic lighting. It is just the actors and the audience, in a shared reality. It is completely up to the actors to give the audience the clues to imagine their world.
The Black Box Theater Poster Production
The company came into the studio, ready and raring to go. They had sourced their costumes and found the only two props needed for the poster concept: a pipe and a car steering wheel.
On stage, they had a few more props, including multiple hats. But, other than that, it was a minimalist production.
Under Jack and Catherine's direction, we quickly blocked up the shot, with a very simple lighting set up. Then, we were able to work on each character's emotional profile.
While the behind the scenes snap shows lots of giggling, these teens were full on professionals!
Related Stories from the Studio . . .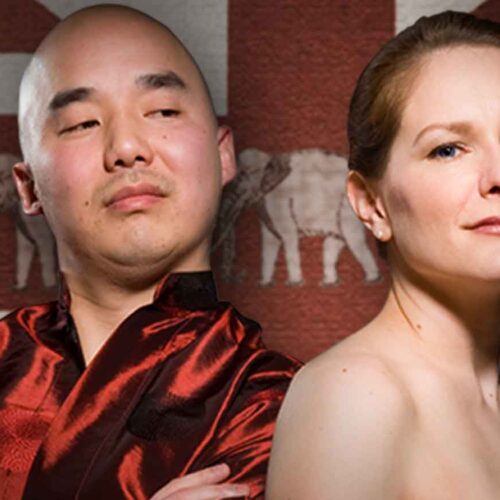 The fun part of the shoot, for me, was watching these two professionals go to work and create the relationship between the two main characters.