Artie Ledger, over at the Footlight Club, stopped me during a recent art opening at the theater and we started chatting about the on again, off again cover of the new 2010-2010 season at the club.
I have shot the last three or four FLC season covers, plus a number of photo illustrations for their theater production marketing campaigns, so I had a pretty good idea of what could work for them.
One of this year's productions is William Shakespear's Midsummer Night's Dream. After perusing the script (haven't seen it since 11th grade!) and checking out the 1999 film with Michelle Pfeiffer and Stanley Tucci and the rest, I thought this would be the perfect cover shot. Artie agreed and we set out on the search for the Fairy Queen Titania and her lover, Nick Bottom.
Casting, of course, was also key. I had recently worked with Julie Weatherbee on a project for Greenlight360 and knew that she had the beauty and the grace that would embody Titania.
Donkeyboy, or rather, Nick Bottom, was a little more difficult to cast. After all, it had to be someone who could act while wearing a Donkey Head costume. I finally found Nick Havoc to play the part. The name seemed to fit and his acting chops were definitely up for the role.
The donkey head was a little more difficult to source out. Mari Quirk, a long time set stylist in the New England area, runs Associated Quirks, reached out and finally found me one way over on the left coast from Bischoff's Taxidermy and Animal FX. Not exactly in the original budget but this was the perfect accessory to really legitimize the project. All of the other donkey heads, locally, looked plastic or papermache and just didn't have the surreal effect I was going for.
The head arrived via Fedex, in a giant box. Taking it out reminded me of a scene from The Godfather. I am sure you know the one I mean!
I just couldn't resist running into the bedroom and dropping on the pillow. Made for an interesting Facebook entry, anyway.
The day of the photo shoot came and everyone piled into my little studio (this was before we closed on the new bigger space) and we went to work shooting both individuals and the couple together.
Shauna Lemay was back on make up and hair for us and Maureen Festa did the costumes.
But wait! The title of this entry is "… At Space242"!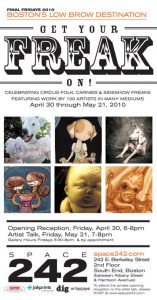 About the same time as the shoot was going on, I received a call for entries for Space242's Get Your Freak On! Show.
Some how, the subject matter seemed appropriate and so I sent it in.
The opening for the show is this Friday, 4/27/10 from 6 to 8 pm.
Hope to see you there!