Singing in the Rain – Emerson Umbrella
Creating Rain in a makeshift temporary studio, for Singing in the Rain, backstage at the Emerson Umbrella.
Concepting to Prep for Biotech Photography:
Johanna Perri, the lovely young actor from Gypsy, at the Footlight Club, introduced me to Julia Fisk, the Performing Arts Coordinator, at the Emerson Umbrella.
They are putting together a classic version of Singin' in the Rain and wanted me to create an homage to the original 1952 poster, staring Gene Kelly, Debbie Reynolds, and Donald O'Connor.
Of course, the set is still under construction, the rain coats and umbrellas haven't been rented yet and the original movie poster featured rain, which would be problematic on our short budget.
So, we are setting up a blank set in the dance rehersal studio in the basement of the Emerson Umbrella (neat building!) and Julia has found us some yellow slickers and umbrellas. After that, it is all up to Tim McShea, Johanna Perri and Brian Boruta to channel Gene, Debbie and Donald.
Like all of these poster shoots, preconceiving the final image is vital to figuring out how to set up our photoshoot. In a perfect world, we would have been on a giant stage with a cyc wall behind our actors. It would have saved some time on the retouching side of things, but would have been very difficult to schedule. Not to mention, fit into a small theater's budget!
A little magic called c-stands with 30″ arms and knuckles to extend the 9 foot seamless to cover the umbrellas and we are good to go!
The next challenge is recreating the classic Gene Kelly pose with the lamp post. Tim McShea, who I have worked with several times, is certainly up to the role.
But, the lamp post is not wired, nor is it nailed down! In fact, we just carried it down from the stage and it is a little top heavy. Especially with Tim, who is tall and has a dancer's build, leaning over the side.
Brian saves the day and goes and sits on the opposite side, effectively balancing out the lamp post and saving our set.
His expressions during the shoot kept cracking everyone up!
Post production included cutting out the actors from the backdrop, extensive clean up on the plastic rain coats to remove wrinkles, and Photoshop generated backgrounds for both images.
The final layout was done by Emerson Umbrella's in house designer.
My thanks to Julia Fiske, Tim McShea, Johanna Perri and Brian Boruta for their time. And to Cheri Fletcher for assisting on the makeup, hair and costuming.
Related Stories from the Studio . . .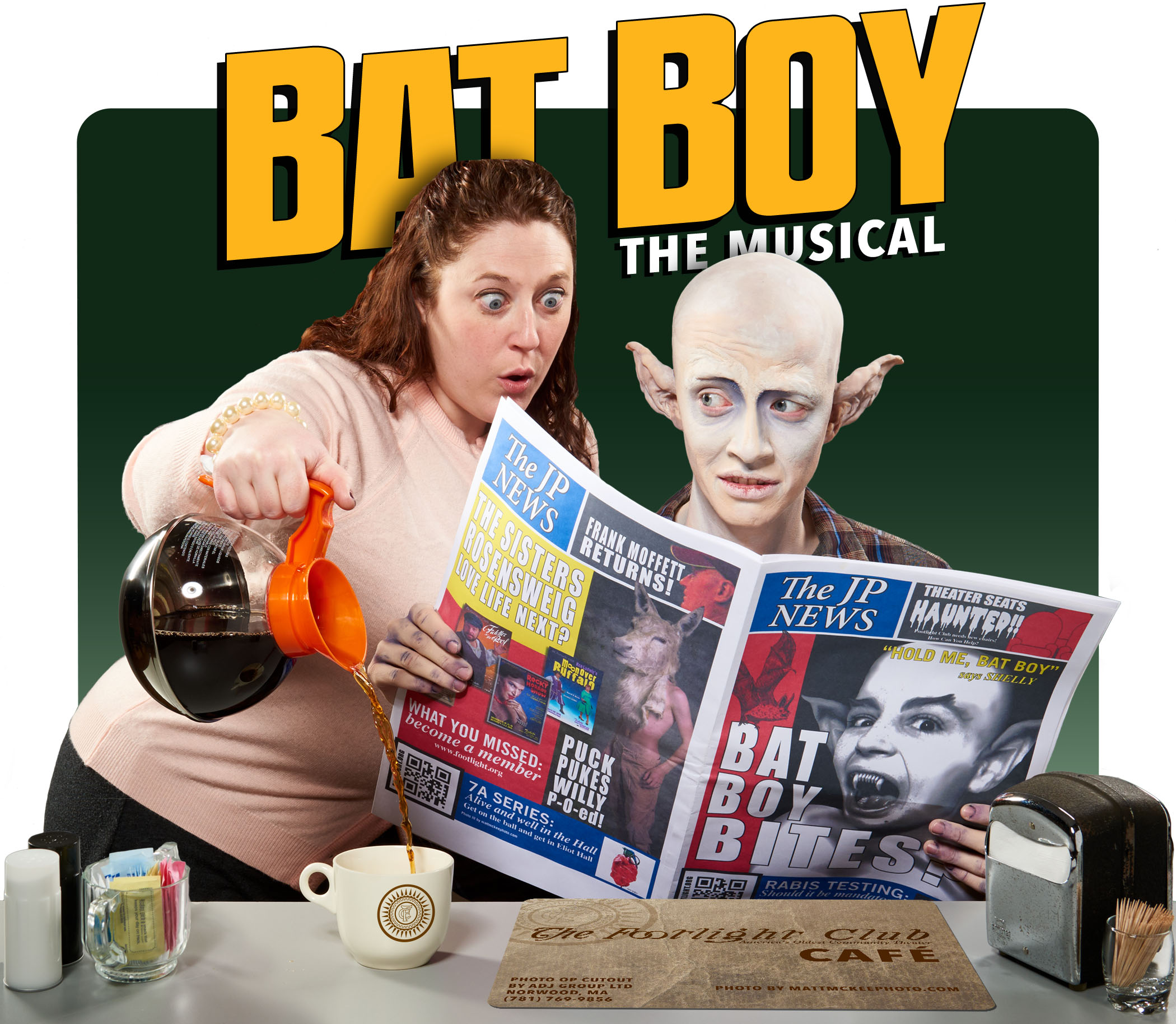 Bat Boy Behind the Scenes on the photoshoot for the poster. There's a great short video of the project as well.