Stories About Tag: behind the scenes
Photographing Live Theatre: On Stage with Fiddlehead's Ragtime: The Musical. How we captured an amazing performance for posters and reviewers.
Read More »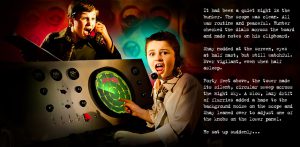 All was quiet on Christmas Eve as Gears looked over the scope. Suddenly, Rocketboy spots a blip coming out from the North Pole!
Read More »
Want to find out more about how we create your marketing photography?
It just takes a couple of clicks to start a conversation!
Or, if you are in a hurry, make the call. And, if we are on set (or it is after hours), leave us a message. We'll ring you back as soon as we can.
Some helpful posts for your next shoot
The current query has no posts. Please make sure you have published items matching your query.