For those of you who haven't been on a photoshoot before, from the outside, it can look pretty chaotic.
There's someone setting up and moving lights, lots of people in a huddle around a laptop. The occasional piece of furniture borrowed from a near by office and set up in the middle of the lobby.
And, plenty of phone calls getting people to their marks and out again before their next conference call. It's a never ending swirl of action through the office. It's enough to make anyone nervous.
However, it doesn't have to be a stressful interuption of the work day. With a good shot list in hand, it can actually be a fun and creative process that yields tons of stronge marketing photos for your image library, with a minimum of disruption to the day's workflow.
So, how do you make a good photography shot list?
Simple! Start at the beginning…
The best shot lists start with your creative team and with a specific goal in mind. Brainstorm  image concepts that might work well to illustrate concepts on your web page. If you are a manufacturer, perhaps an action shot of the latest piece of equipment, making your goods quickly and efficiently. If you do bio tech R & D, then an image of one of your techs in the state of the art lab should probably be on the list. If your people do proposals, white papers or speaking engagements, then there are a number of portrait possibilities to consider.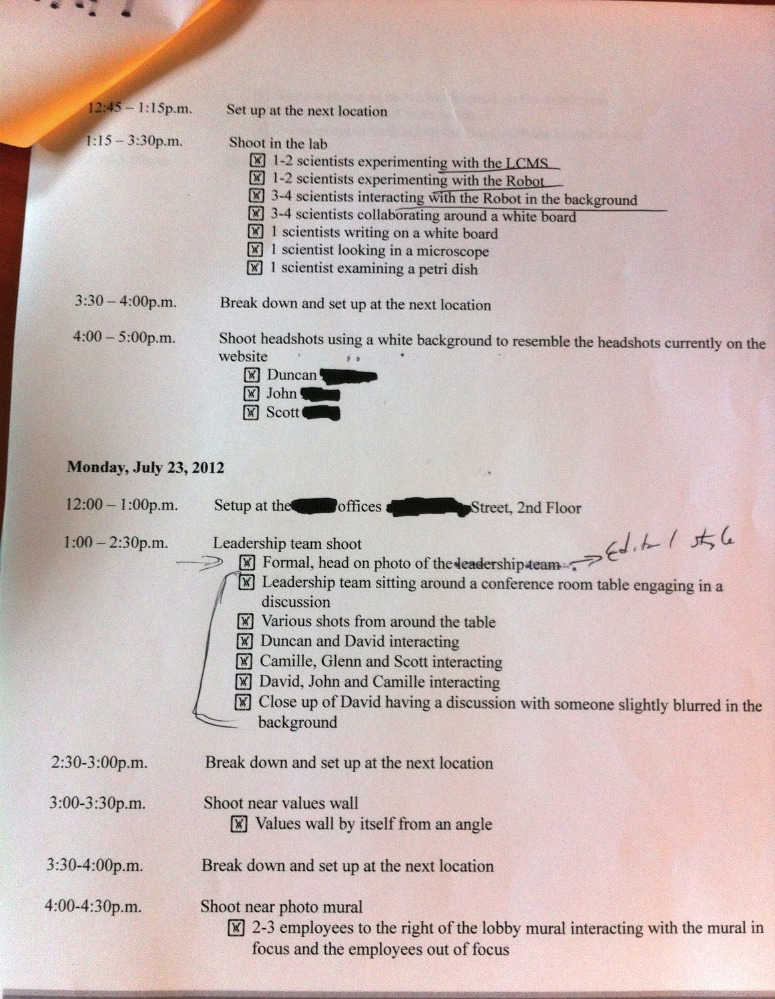 Prioritizing the Shot List
With the results of your brainstorming session, you can now start to whittle down the list and organize it with a few simple criteria:
 Why is this shot important?
 Does it feature a key player or marketing concept for the company?
 Is this photo a must have or a wish list item?
That last one is really vital to the process. A must have shot is one that has an immediate place in the marketing. Head shots of senior management for the bio page, LinkedIn profiles and client proposals would be a must have. Portraits of junior account managers for the in house intranet may not be as effective a use of your photographer's time and your budget.
Planning The Photo Shoot
Now that you have trimmed the list to what is most important, organize and work out the timing so that the shoot will run smoothly. Consult with your photographer and creative team for how long each set up will take. Don't forget to include a lunch break!
Your shot list could be as simple as:
"Morning- shoot in lab A with Dr. X and Tech Y, for header on research page."
Or, as detailed as:
"9:00 Photo crew arrival and set up in Lab A. Groomer in adjacent office.
9:15 Dr. X and Tech Y to groomer, wardrobe is lab coat and gloves.
10:00 shoot research concept, with electron microscope and cancer slides.
10:45 break down set and move to conference room B for exec portraits. Dress code for execs is suit coat and tie or dress. See production sheet for wardrobe tips.
10:45 VP Sales to groomer
11:00 VP Sales on set
11:00 VP Marcom to groomer
11:30 VP Marcomm on set
Etc"
The more details we can figure out before we go out on location, the less stress on everyone and the smoother, and more successful, the day will be.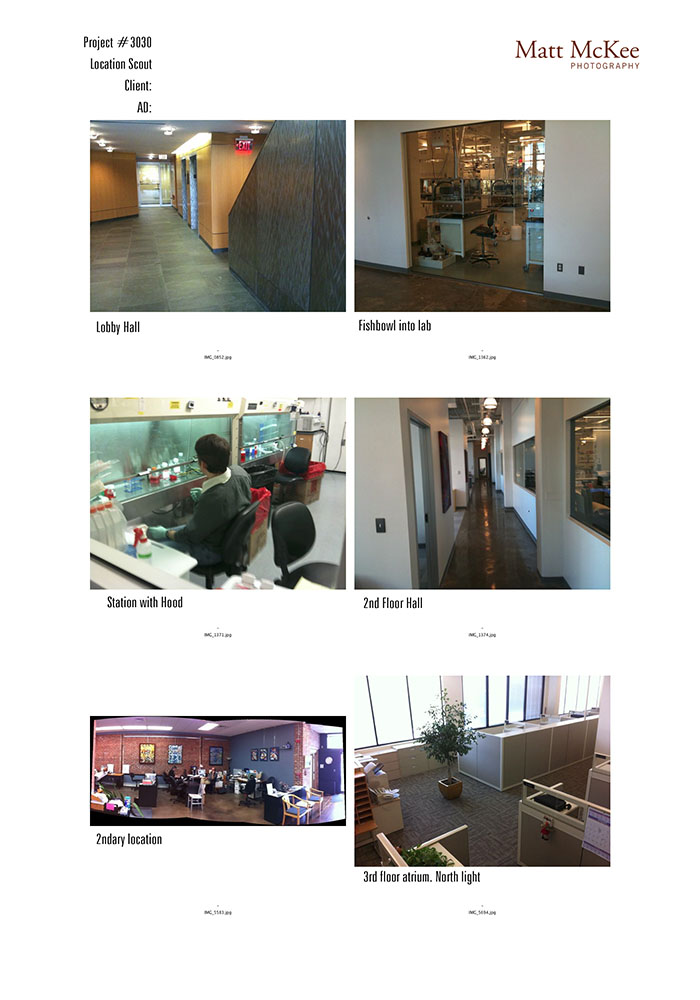 Get the Photographer involved!
And, this is why I like to be involved early in the process. Getting your photographer in during the planning stages can help to avoid scheduling snafus and help to execute specific shot concepts. Location scouting with the photo team can reveal areas in the office that are beneficial to the project and help identify potential challenges.
Asking your photographer to "show up and shoot stuff" is a little like asking your mechanic to fix your car without telling him what's going wrong. He'll find it eventually but it isn't the best way to spend your money.
Got a marketing project in mind? Overhauling your current site or looking to update your corporate image library? Let me know and we can create a shot list together that will make your marketing sing!