Theater Poster Creation for Ken Ludwig's Moon Over Buffalo
Moon Over Buffalo behind the scenes on the theater poster photoshoot. A little insight into the production and a short timelapse of the process.
Photoshoot Behind the Scenes Moon Over Buffalo
Ken Ludwig's farcical comedy Moon Over Buffalo is being produced by the Footlight Club and they needed a theater poster to help promote the production. Moon Over Buffalo behind the scenes started with a photoshoot at our Boston photo studio.
Our goal, as always, was to create the poster and a whole pile of digital collateral.
Photography of the two leading actors for the theater poster was fairly simple.
The concept was being driven by costume and character and we knew it was going to be siloed and placed against a generated background.
So, all of our effort went toward creating the right expression.
David Alger's costumes were, as always, perfect. Troy Siegfried was our wig master. He is well known on the Boston theater scene for his wig skills, among other things.
The production's director, Russell Greene, as well as the production's producer, Amanda Bedford, were on hand to supervise the theater poster shoot and keep the actors in character.
They really helped as I was not very familiar with this play.
During preproduction conversations about the theater poster shoot, we did have to procure a couple of new props for the studio. The nose fell under the responsibilities of the costumer, David Alger.
The swords, however… Well, we didn't get to keep the nose but we have two new swords!
Below is a quick time-lapse video of how we produced the photography, poster and digital collateral to market the show both online and throughout Boston.
Related Stories from the Studio . . .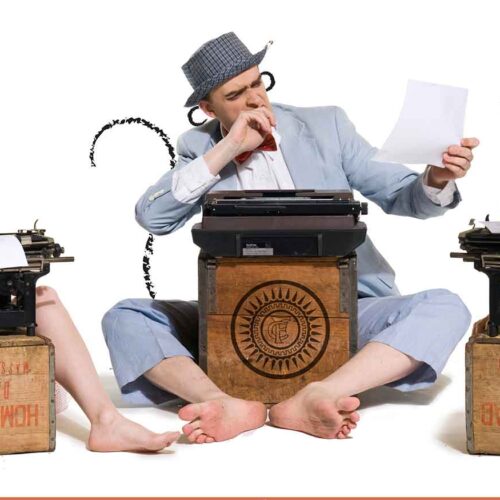 "Dude, its kind of short notice but... We got these three monkeys with typewriters, see?"